Sur un plateau d'argent / On a Silver Platter (Installation 02012-)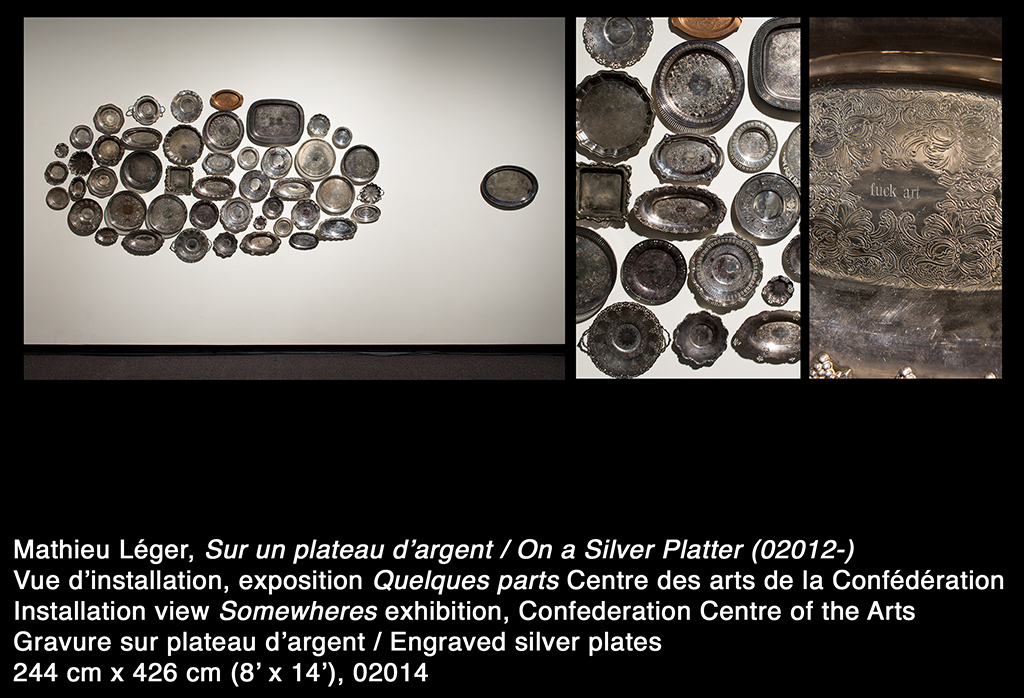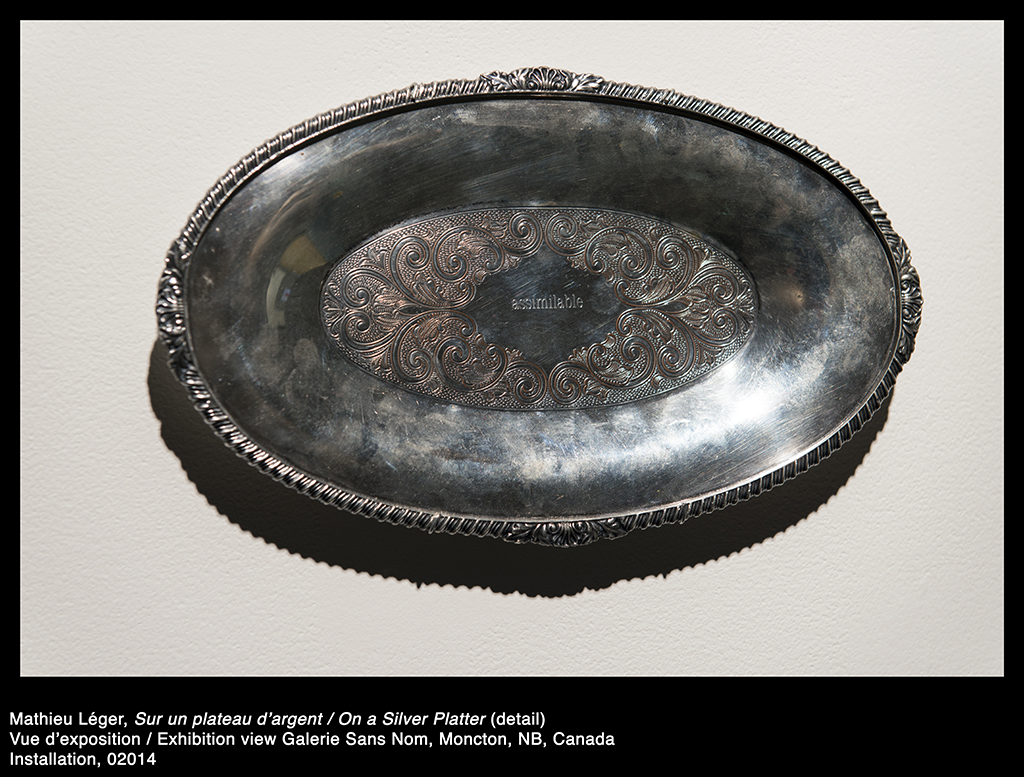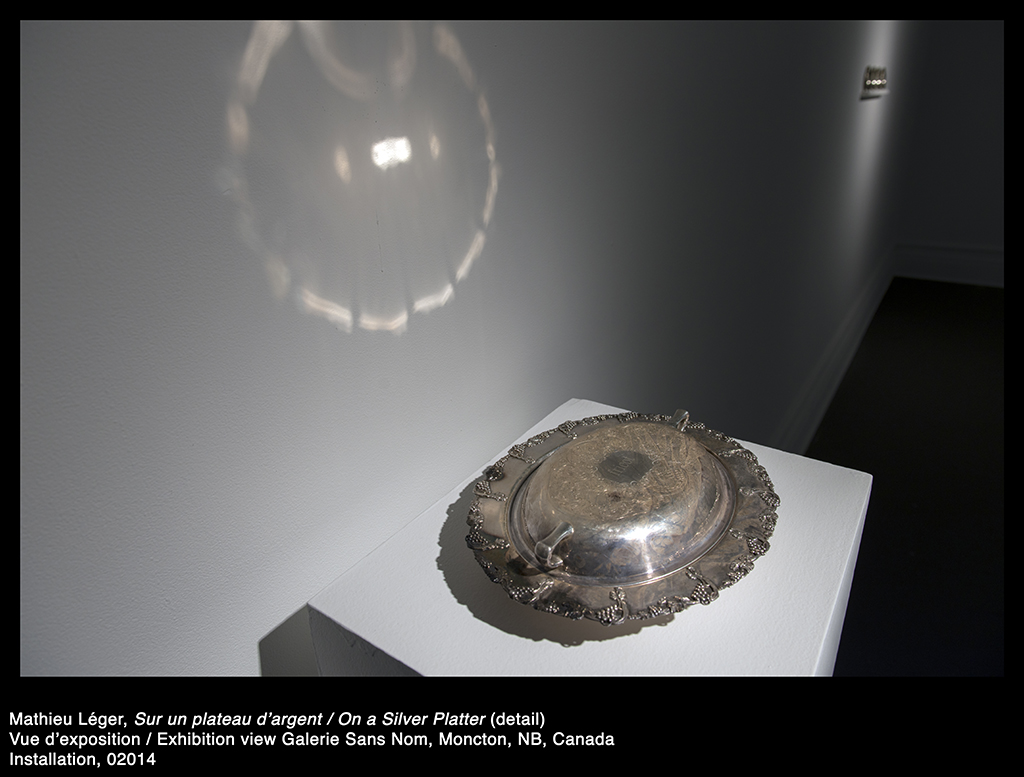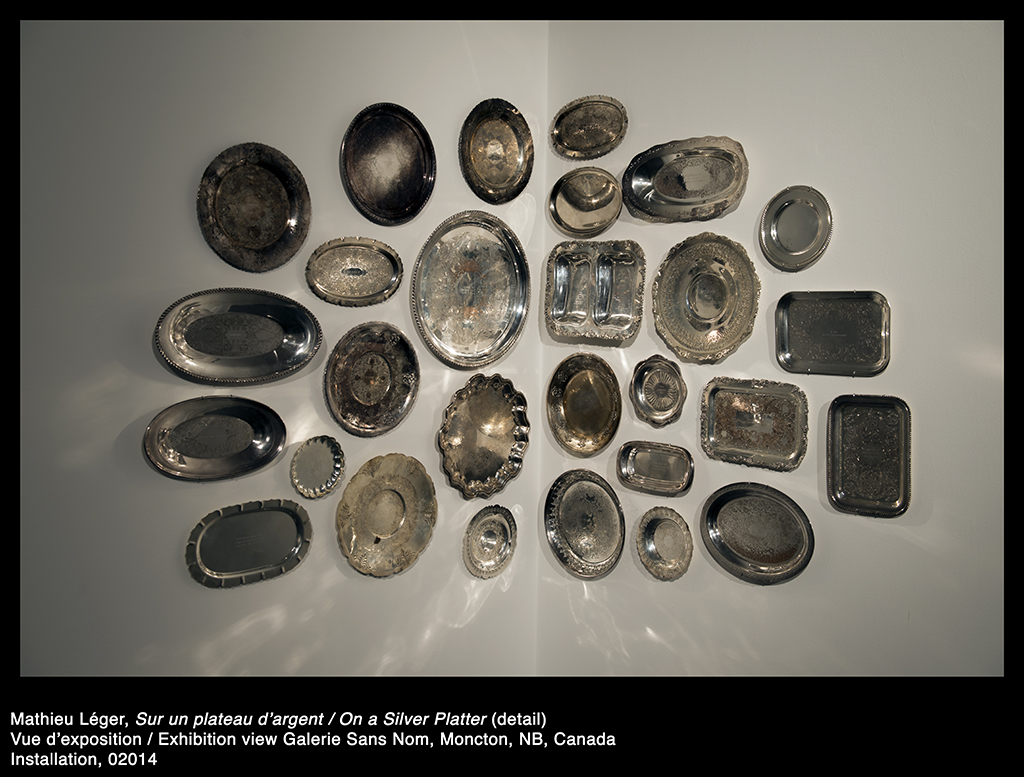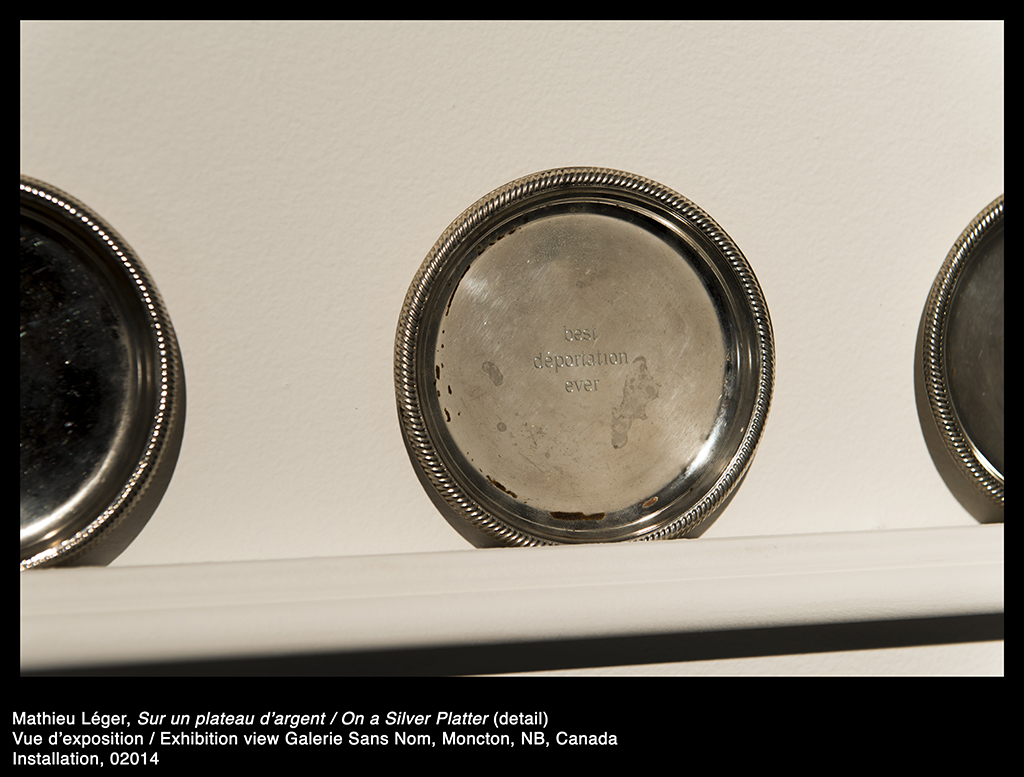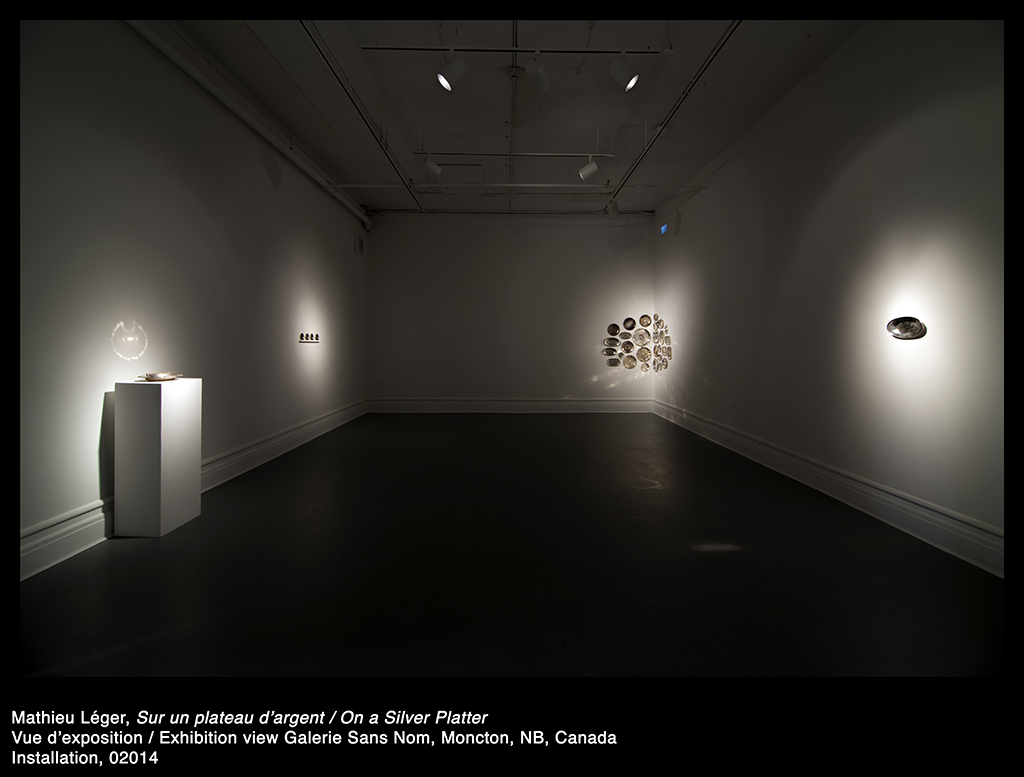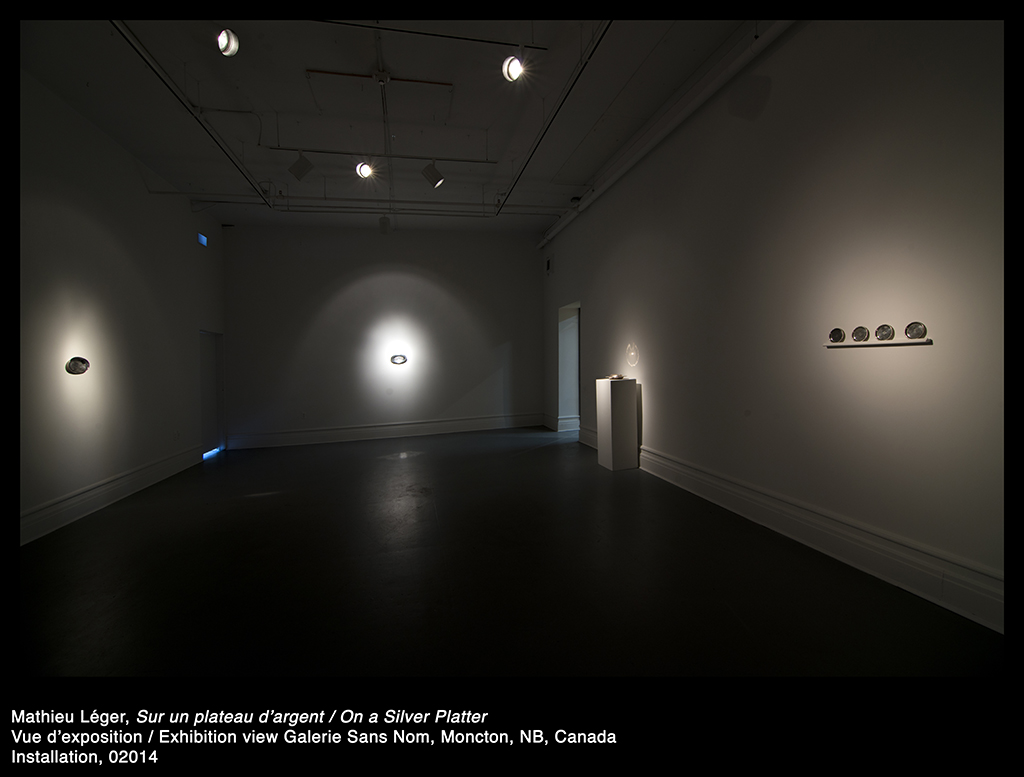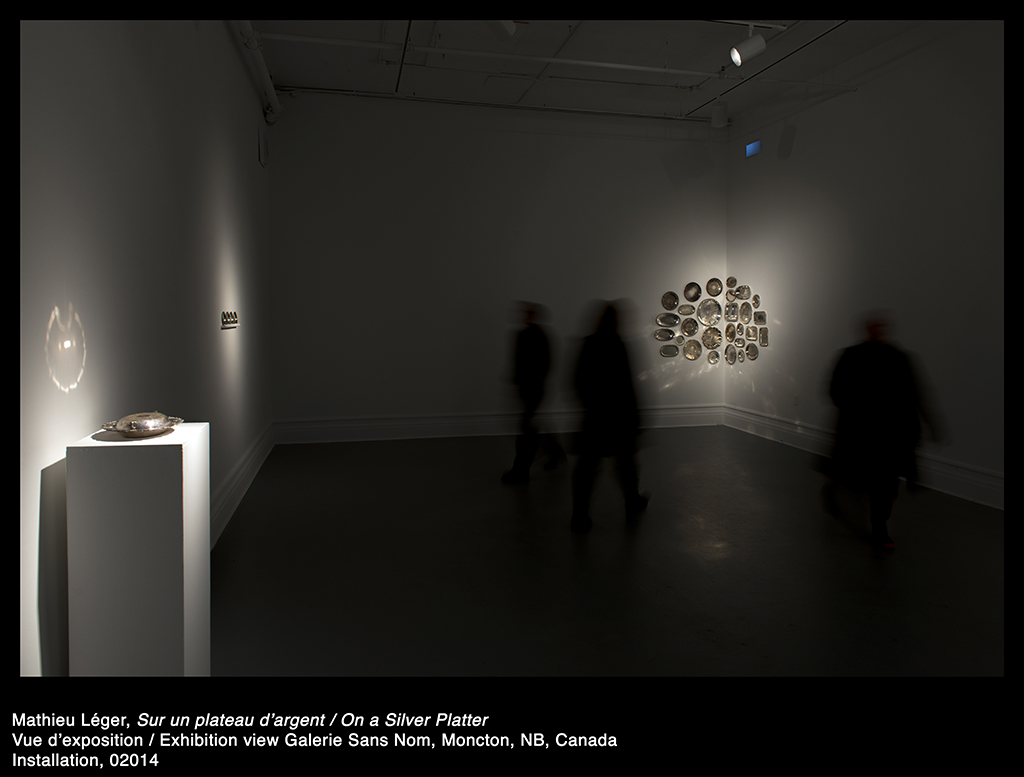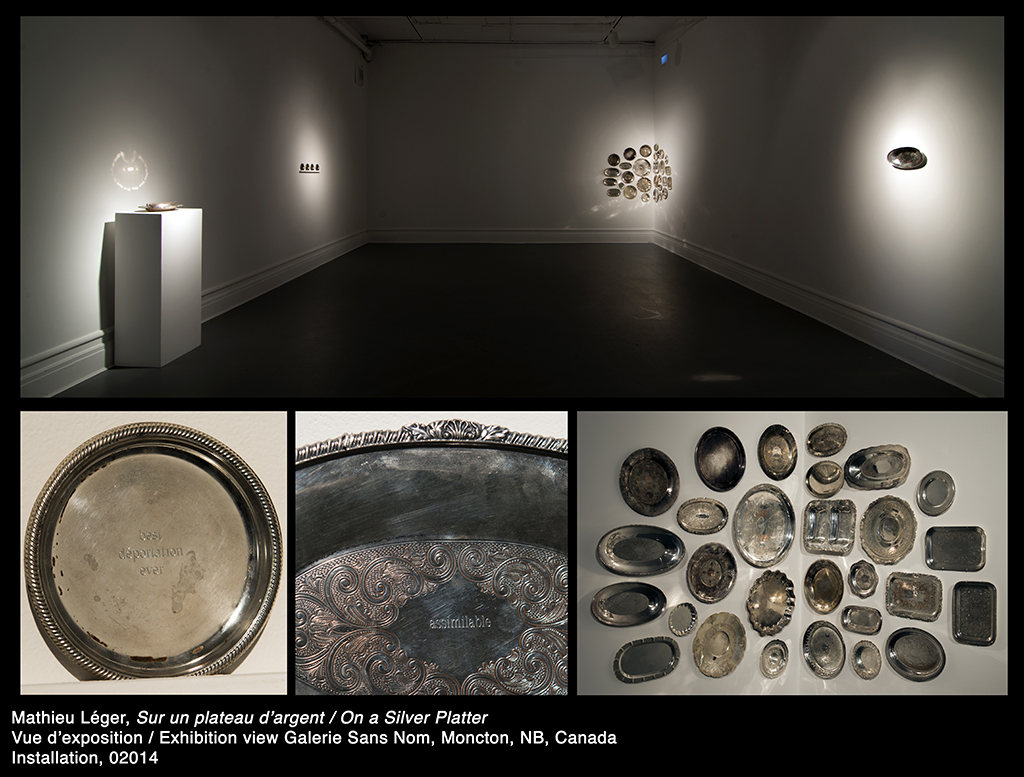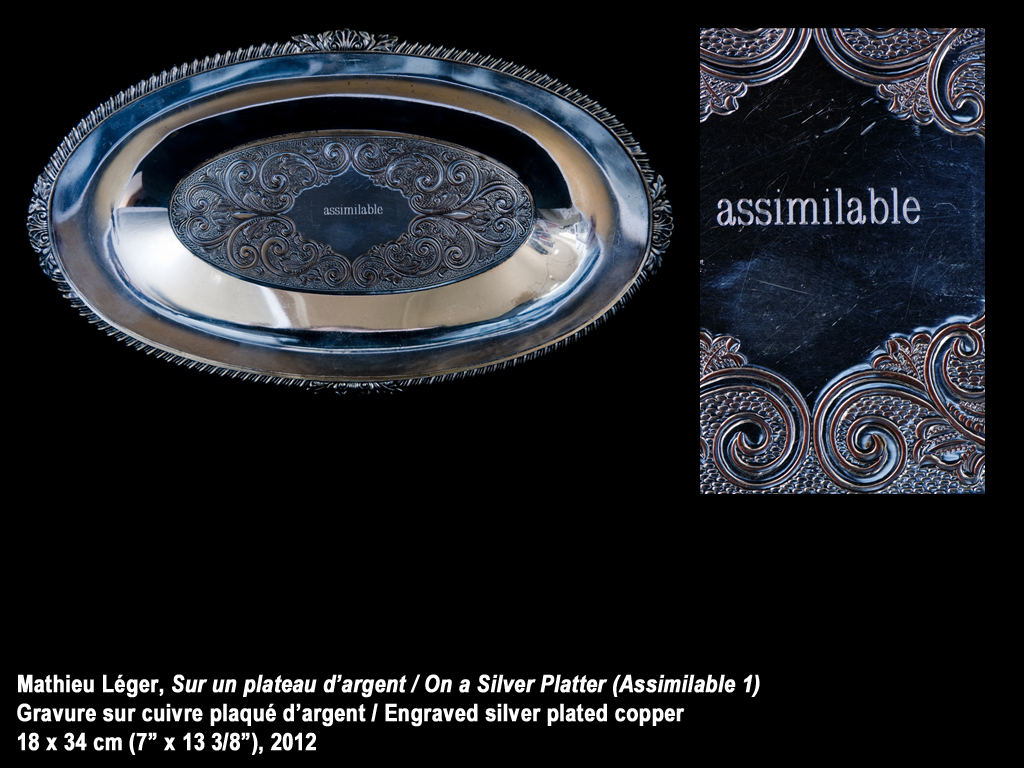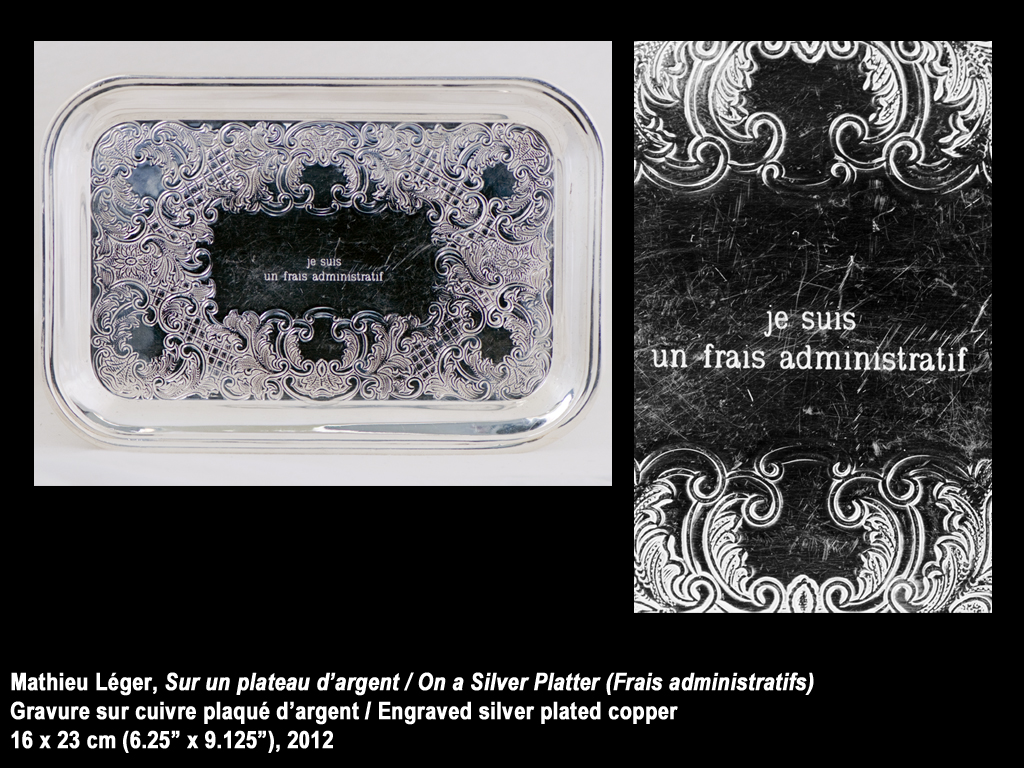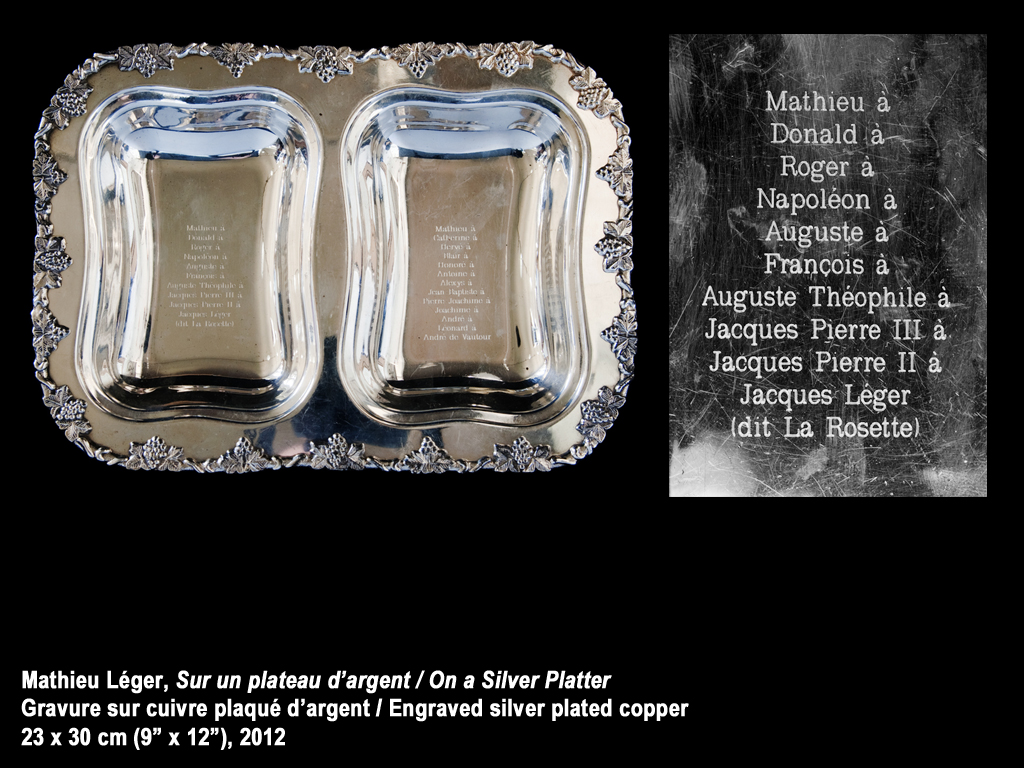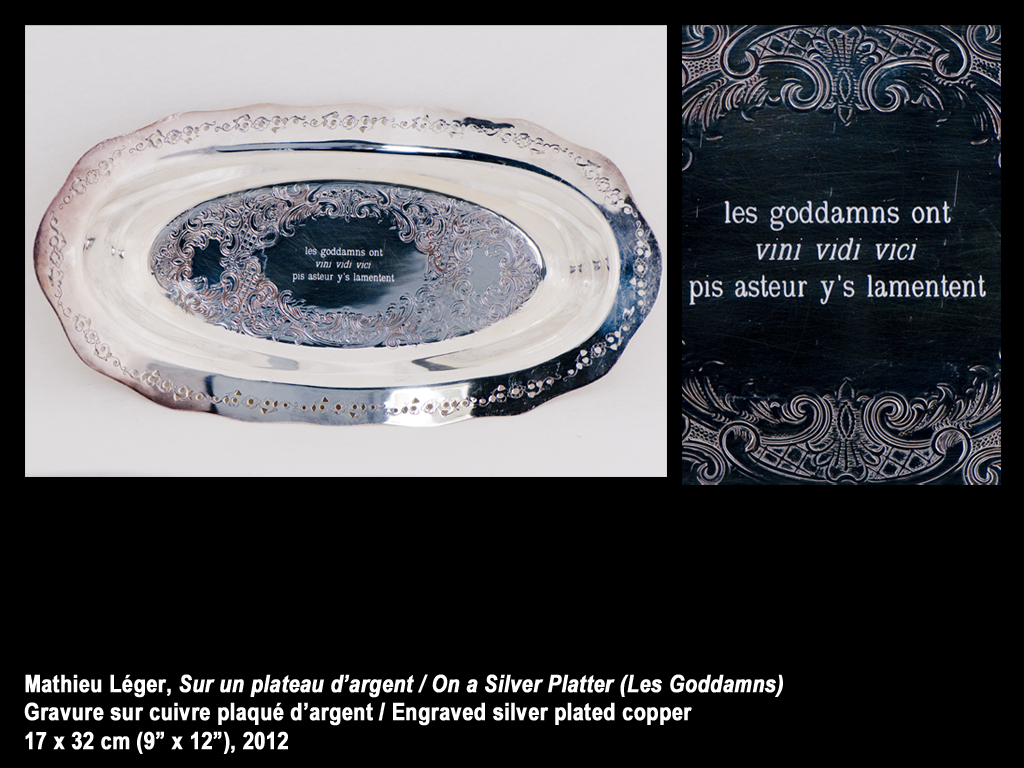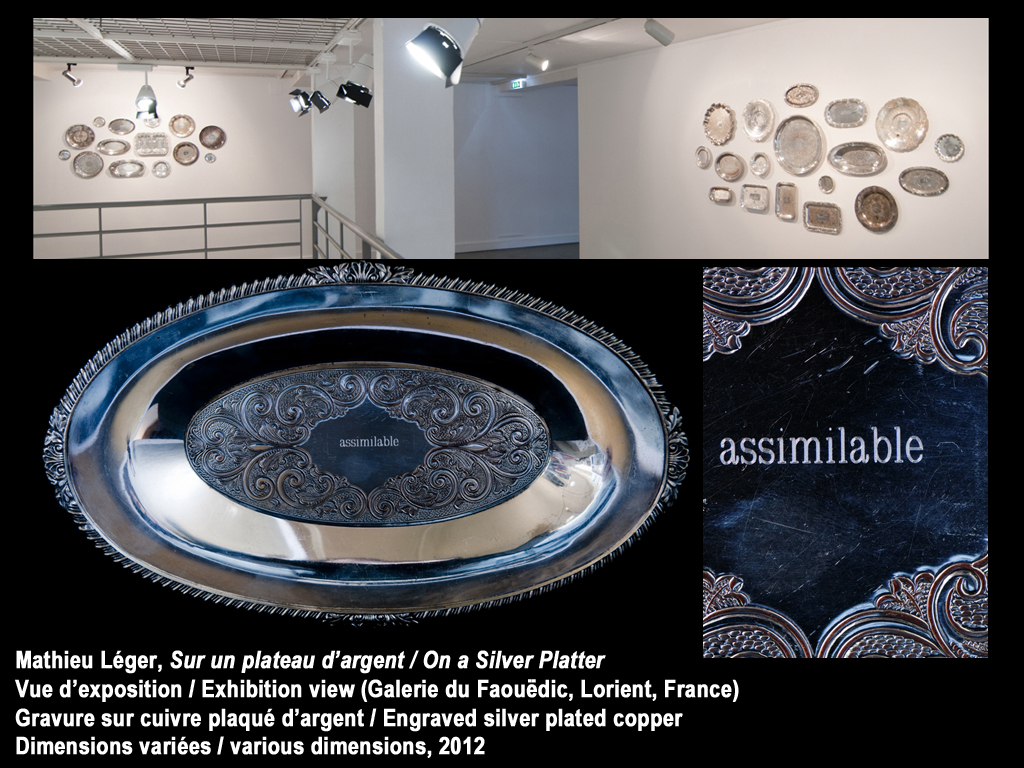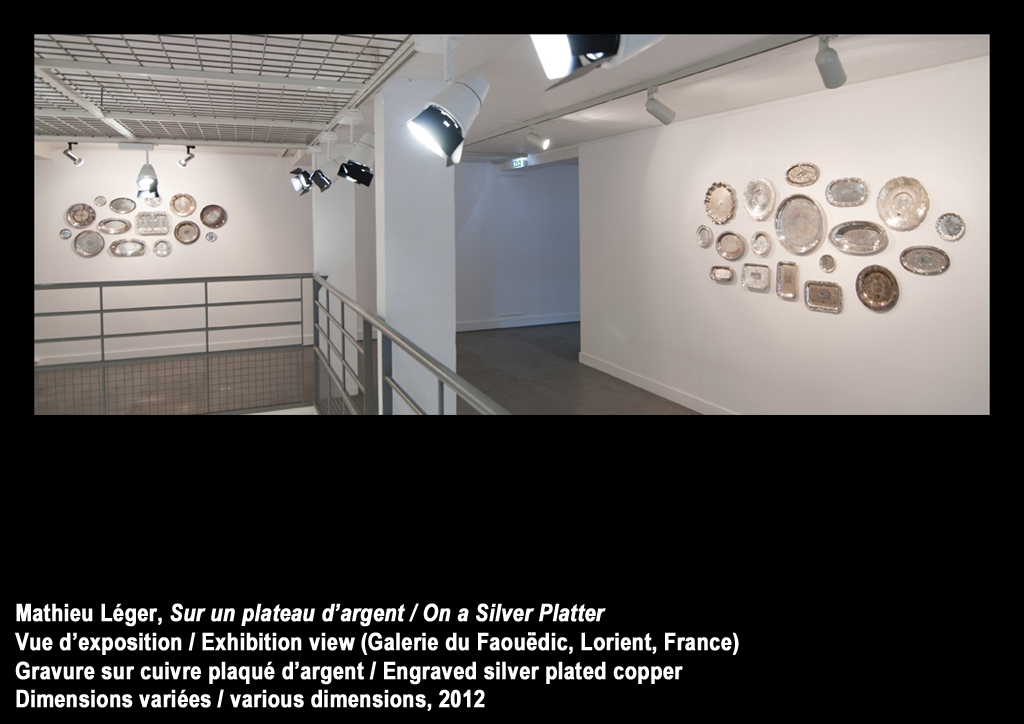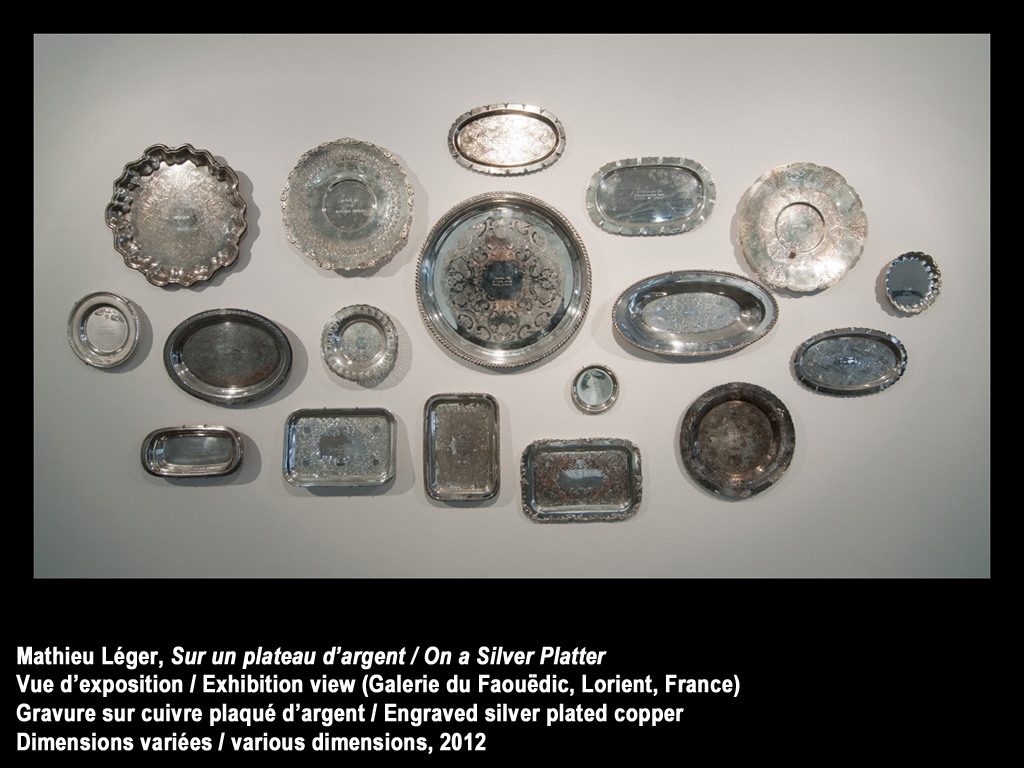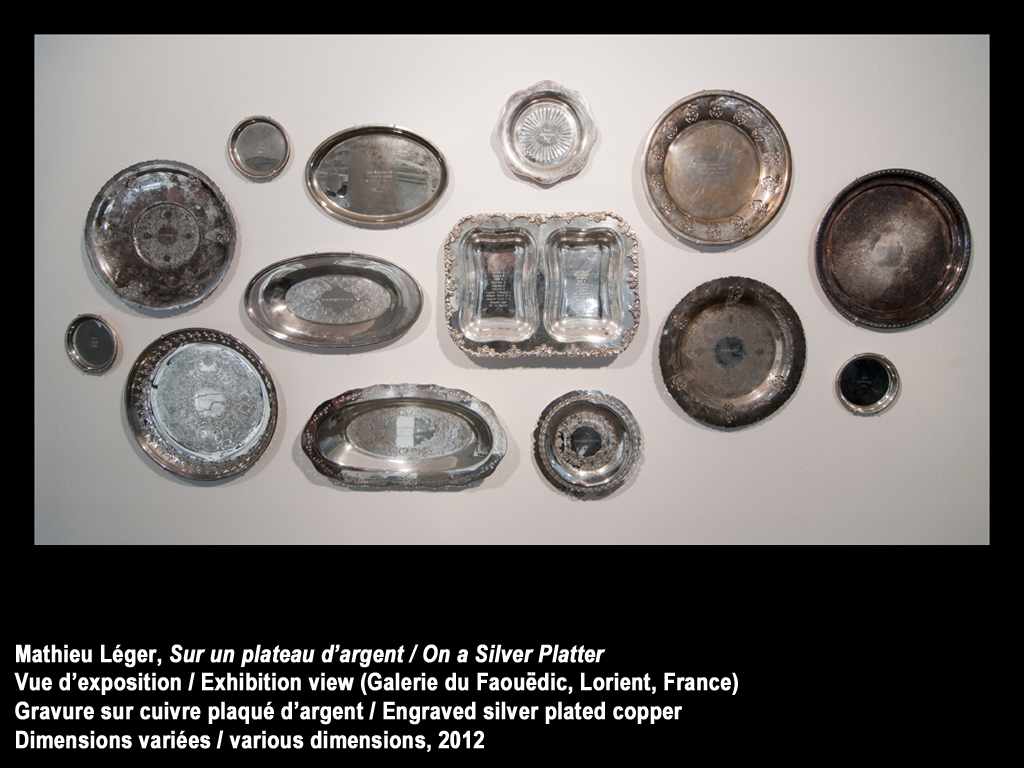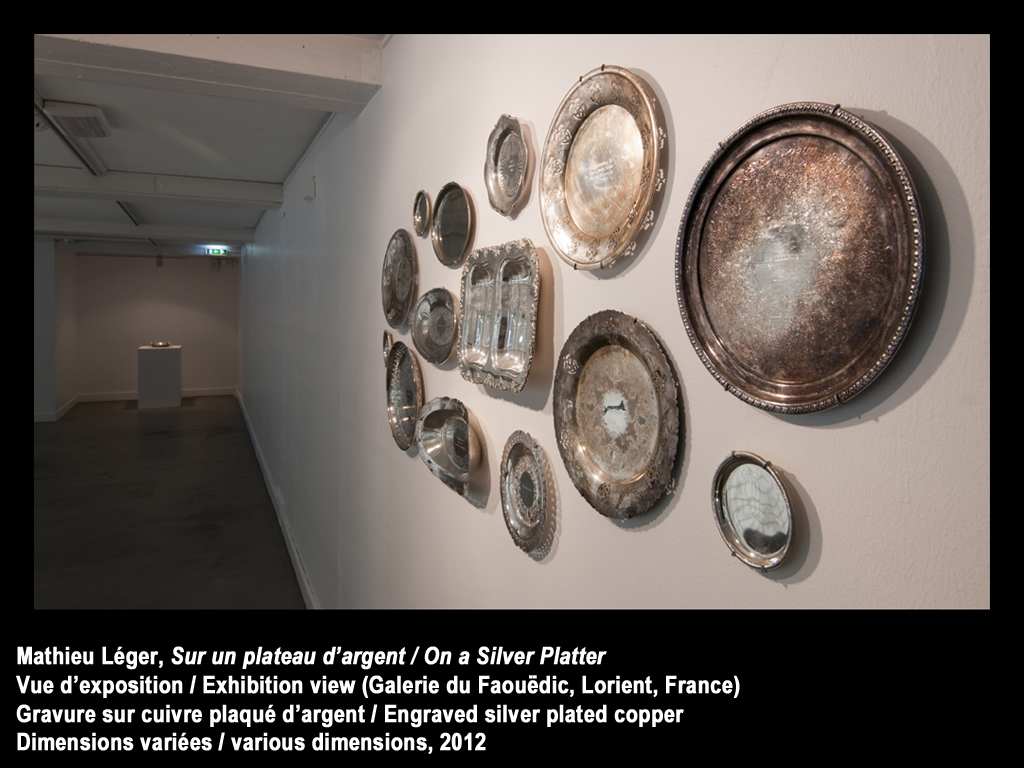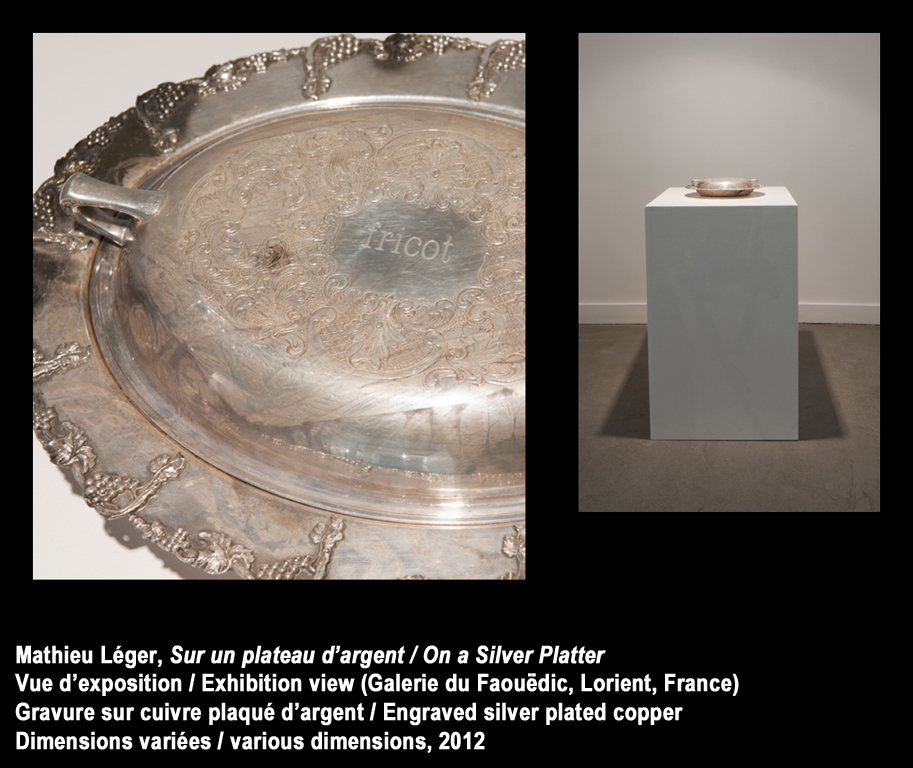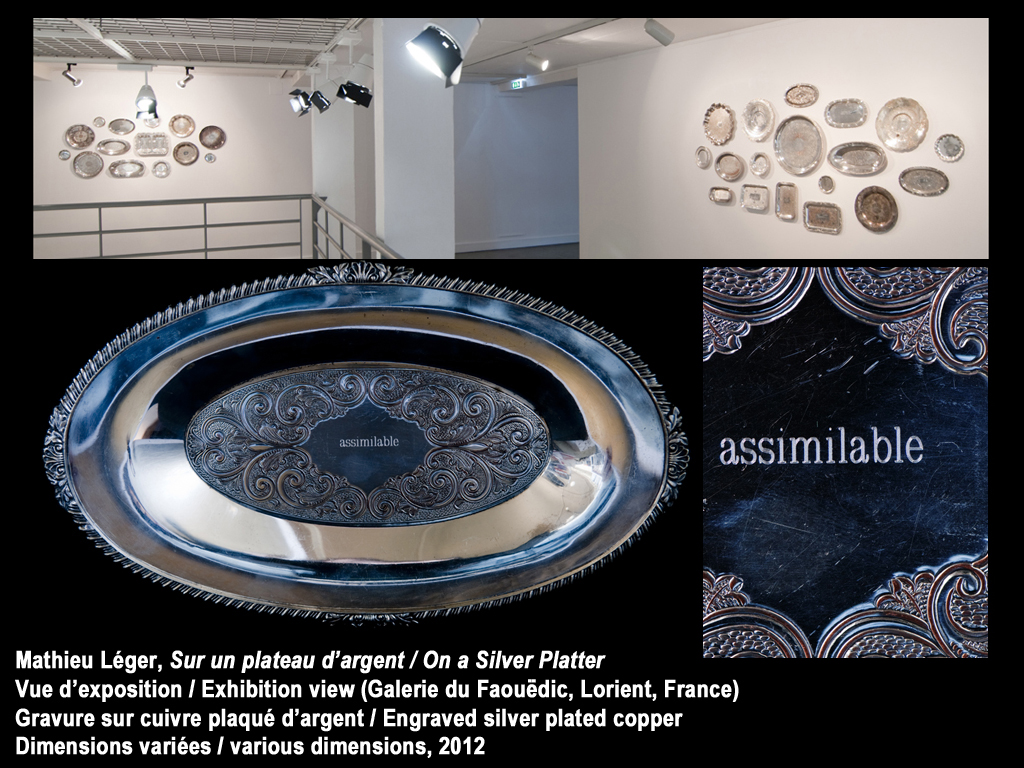 Sur un plateau d'argent / On a Silver Platter is a project about history, culture and contemporary art in Canada. This project questions the current values and trends of contemporary art while peering into cultural marginality in the face of the ever growing urban-centric art world. The works use novelty as a method of repurposing objects to assert the artist's status. Through humour, politics, cultural conflict, and "navel gazing art practices," the series examines identity, cynicism and sulking as mechanisms to promote artwork.
Sur un plateau d'argent/On a Silver Platter est un projet qui interroge l'histoire, la culture, et l'art actuel au Canada. Les commentaires inclus dans les oeuvres posent un regard sur les valeurs dans notre société actuelle. En auscultant les courants de l'art contemporain, cette série s'intéresse aussi aux situations marginales (culturelles/géographiques) dans une époque de plus en plus urbaine. Les œuvres utilisent l'excentricité (« novelty ») comme moyen d'appropriation et de réorientation des objets pour affirmer un statut. Cette série intègre des questions d'identité, de cynisme, et de maussaderie comme mécanismes pour faire la promotion d'œuvres dans un milieu académique à travers l'humour, la politique, les conflits culturels et les pratiques artistiques nombrilistes. Un contact direct avec les spectateurs se fait à travers une approche humoristique à niveau de culture et de langues. L'argent devient, ici, matériau d'appât ; un leurre où les spectateurs s'infiltrent dans un espace provocant une confrontation entre la lueur de richesse et les messages qui y sont gravés. Ces plateaux précieux sont alors détournés et se recontextualisent. Les plateaux se réinventent en véhicules qui provoquent, qui dérangent, qui interroge l'histoire, la culture, le statut. En essayant de lire les textes dans le fond des plateaux, le spectateur confond sa lecture du texte avec une réflexion de lui-même, mais avec une distorsion profonde. Alors que les spectateurs essaient de lire, avec un certain degré de difficulté en raison de la surface réfléchissante, leur reflet déformé devient un rappel vigilant que l'art n'est qu'un reflet de la société contemporaine duquel ils font partie. Parfois sérieuse, parfois cynique, cette série vise à continuer le débat sur la culture canadienne contemporaine en explorant les questions linguistiques, l'assimilation et les traditions.
L'artiste désire remercier les organismes suivants pour leurs appui :
The artist would like to acknowledge the following organizations for their support: