Methodologies for Tourists Montreal (MFTMTL) 02013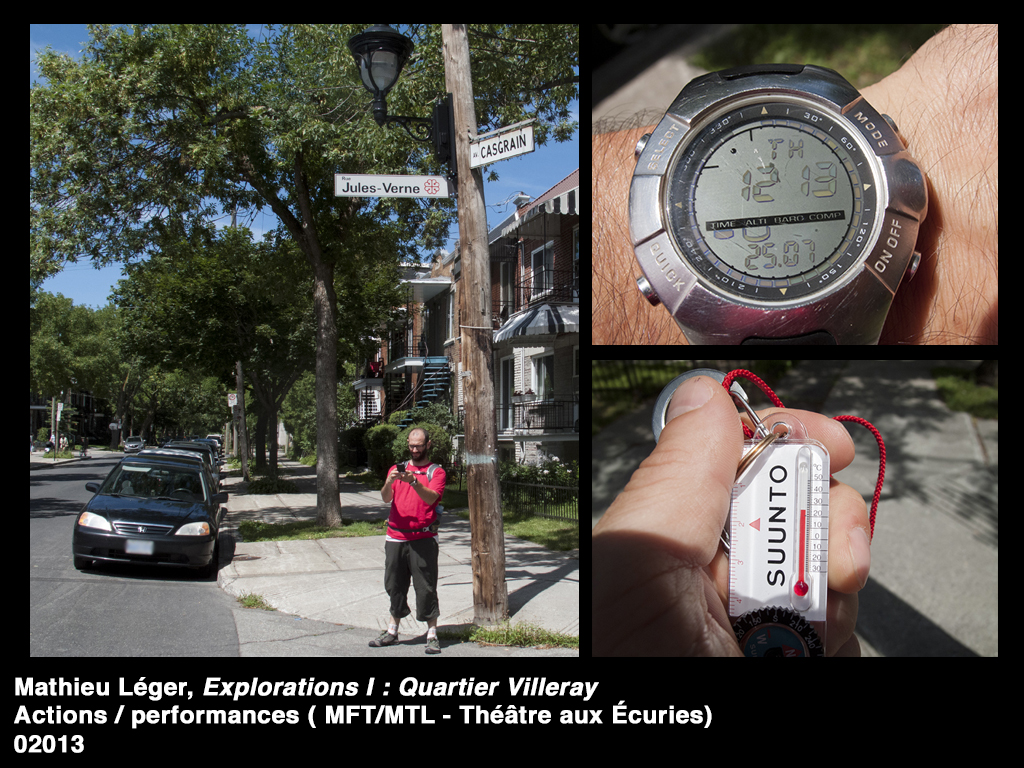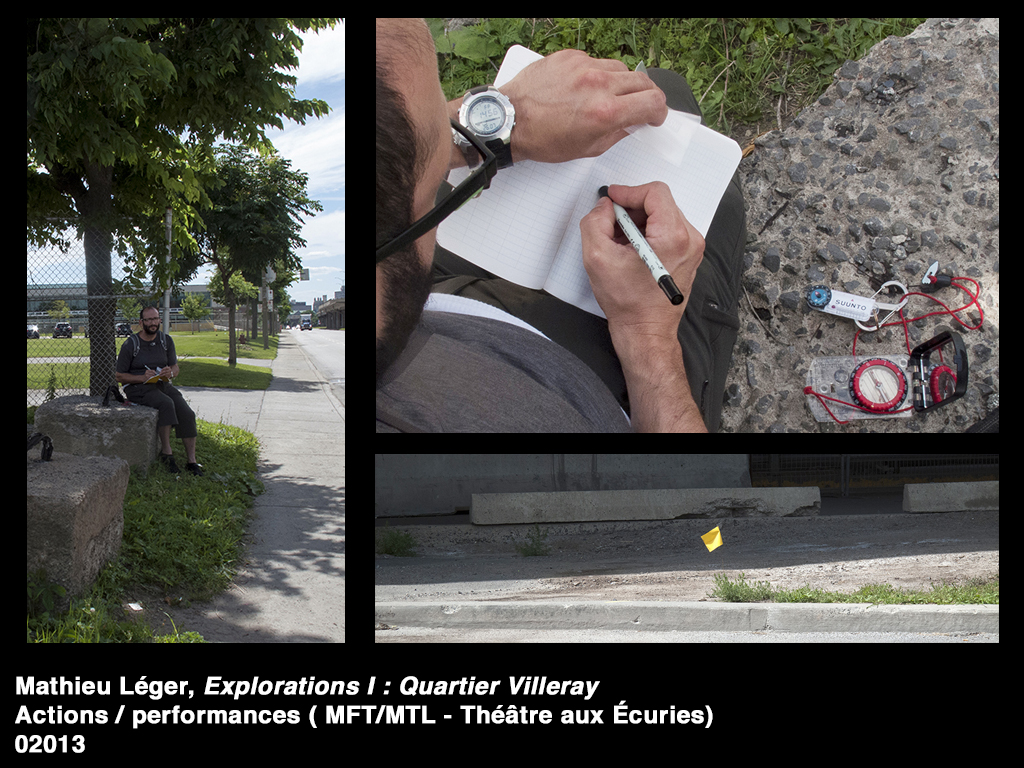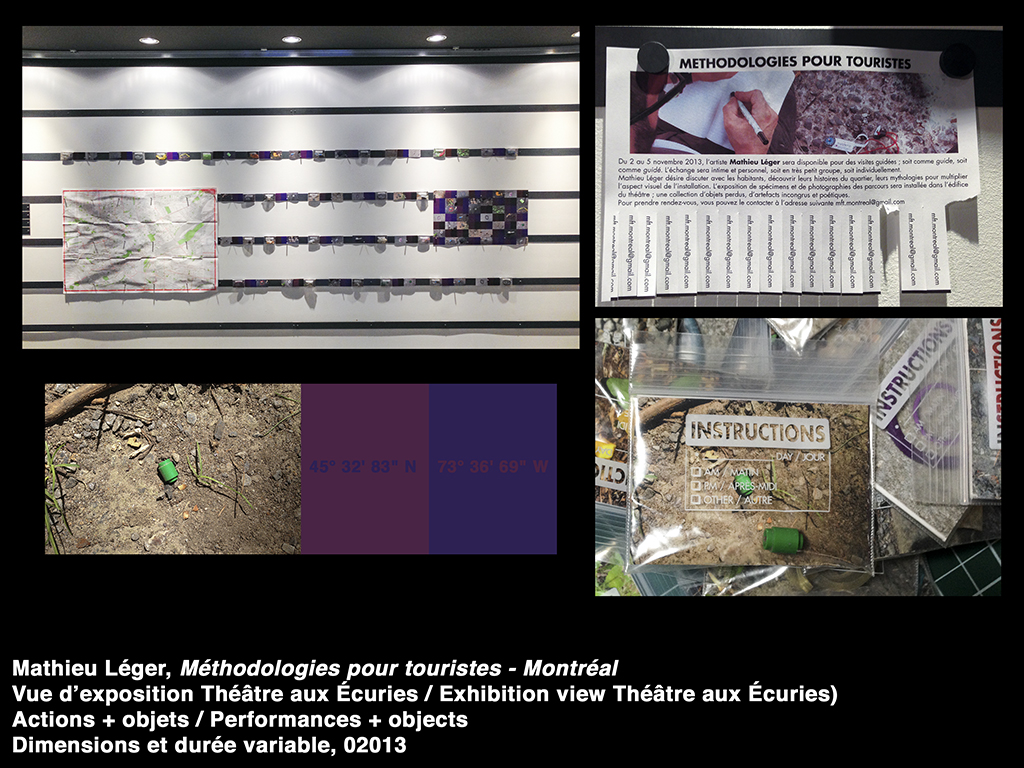 Methodologies for Tourists (MFT/MTL)
MFT/MTL is a continuation of the project Methodologies for Tourists, which will take place in multiple locations around the world over the course of several years. This phase is taking place in the neighbourhood of Villeray/St-Michel/Parc-Extension in Montreal, QC, Canada with the collaboration of Théâtre aux Écuries. The artist would like to thank Artsnb and Théâtre aux Écuries for their support.
Opening on November 1st and actions from November 2nd to 5th, 02013.
Méthodologies pour Touristes (MFT/MTL)
MFT/MTL est une continuité du projet Méthodologies pour Touristes qui se déroulera pendant les prochaines années dans plusieurs territoires sur la planète. Cette phase du projet se déroule en collaboration avec Théâtre aux Écuries dans le quartier Villeray/St-Michel/Parc-Extension à Montréal, QC, Canada. L'artiste tient à remercier Artsnb et Théâtre aux Écuries pour leur appui.
Vernissage le 1er novembre 19h et actions du 2 au 5 novembre 02013.
Une exposition de spécimens et de photographies des parcours, une collection d'objets perdus, d'artefacts incongrus et poétiques. L'occasion pour lui de présenter le résultat de ses excursions-recherches dans le quartier, sa démarche artistique singulière ainsi que les objectifs qu'il poursuit à travers Méthodologie pour touriste, un projet échelonné sur cinq ans dont la troisième phase, après Winnipeg et Portland, se déroule à Montréal à l'invitation du théâtre Aux Écuries.
 
Méthodologies pour touristes s'intéresse au « territoire » sous ses multiples formes ; soit territoire géographique, linguistique, mythologique, politique, idéologique, fictif, matériel, ou biologique. La recherche de l'artiste Mathieu Léger se matérialise en dessin, en vidéo, en action et en photographie tout en exploitant l'interdisciplinarité de l'art actuel. Il s'intéresse aux phénomènes naturels et à l'écosystème humain ; il explore les pistes de nos intentions et de nos actions.

Du 2 au 5 novembre 2013, l'artiste sera disponible pour des visites guidées ; soit comme guide, soit comme guidé. L'échange sera intime et personnel, soit en très petit groupe, soit individuellement. Mathieu Léger désire discuter avec les habitants, découvrir leurs histoires du quartier, leurs mythologies pour multiplier l'aspect visuel de l'installation. L'exposition de spécimens et de photographies des parcours sera installée dans l'édifice du théâtre ; une collection d'objets perdus, d'artefacts incongrus et poétiques. Pour prendre rendez-vous, vous pouvez d'ores et déjà le contacter à l'adresse suivante mft.montreal@gmail.com