Photosynthesis Group 1 : Radiolarian Set (Drawing, 02011)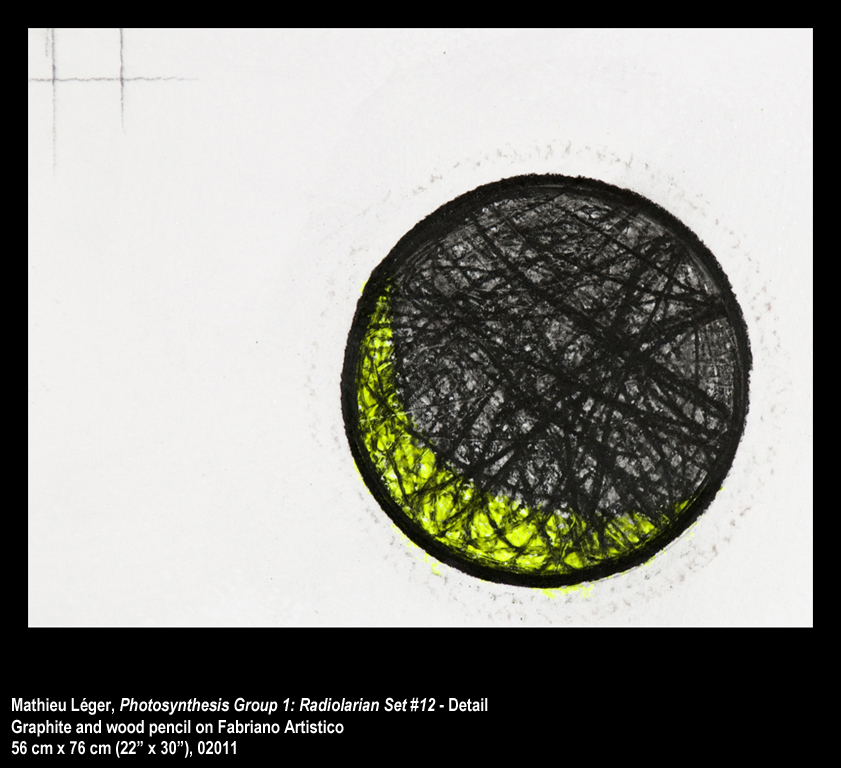 Photosynthesis Group 1: Radiolarian Series Drawing series, 02011. (Selection only)
• Produced during a residency at Lobhta Art Contemporain in 02011.
• Solo exhibition at Lobhta Art Contemporain, Montreal, QC, December, 02011.
This series investigates the concepts and mechanisms used to create volumes on 2 dimensional surfaces, they are to be considered as "theoretical sculpture." Considerations relating to space bring a physicality to the emptiness of the paper, emphasizing a contemporary search for "otherness." Themes of shifting geographies, scientific discovery, and identity are investigated. Ideas of "territory" are probed through the use of a grid system, which refers as much to the technical history of drawing, printmaking, and painting as to the act of defining geographic spaces on maps. This delineation of space inquires into cultural identities and how human territories are created, evolved, and destroyed. These "territories" are questioned through the use of deteriorating grid patterns on the surface of the paper. They become metaphors for spatial boundaries of "personal" space in context of a larger cultural and geographic identity.
Photosynthesis Group 1: Radiolarian Series Dessins 02011. (Sélection seulement)
• Cette série a été produite pendant une résidence chez Lobhta Art Contemporain en 02011.
• Exposition solo Lobhta Art Contemporain, Montréal, QC, décembre 02011.
La série Photosynthesis Group 1 : Radiolarian Set est une série de dessins de « sculptures théoriques ». Cette série explore l'espace comme lieu de trajectoires et de volumes. Les éléments utilisés dans les dessins se comportent d'explorations en cartographie ainsi qu'en dessins techniques et scientifiques. Ces idées sont alors exploitées comme des éléments sémiologiques qui explorent l'espace et les mécanismes utilisés dans la construction d'images (3D, volumes, etc.). Les éléments font référence à l'estampe comme moyen de reproduction d'information et de reproduction de cartes géographiques, ce qui nous fait connaître notre espace géographique, et, subséquemment, notre région culturelle. La grille retrouvée dans les dessins sert de mécanisme pour mettre l'accent sur la dégradation de l'information lorsqu'on utilise une matrice. Donc, cette matrice se désintègre en l'utilisant et devient symbole de détérioration géographique dû à l'érosion côtière. Cette transformation géographique représente alors une évolution de la culture locale due à la transformation de son territoire.
L'artiste désire remercier les organismes suivants pour leurs appui :
The artist would like to acknowledge the following organizations for their support:
artsnb • Lobhta Art Contemporain